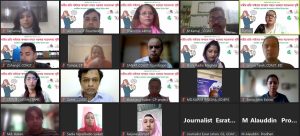 Dhaka, 14 October 2023. Rights-based civil society representatives urge legal action along with widespread awareness to prevent sexual harassment and other harassment against women and girls online. This was urged from a virtual press conference organized today on the occasion of the International Rural Women's Day tomorrow. The press conference was organized by the National Committee for International Rural Women's Day Observation. Speakers at the press conference emphasized that girls and women are constantly harassed through offensive content, leaks, extortion, hacking, and sexual harassment on the internet and the level of harassment is increasing day by day due to the lack of minimum knowledge about internet security. The speakers urged the use of various government 'help desks' for legal assistance as well as active prevention of cybercrime among women and girls.
Tamanna Rahman presented the keynote on behalf of the organizers at the press conference while it was chaired by Shamima Akhtar, chairman of the International Rural Women's Day Observation National Committee. The press conference was moderated by Ferdous Ara Rumee of COAST Foundation. National Committee members Karim Box (Sherajgong), Manju Ara Parveen( Khulna),  Md. Enamul Haque ( Jamlpur), Khondokar Faruque Ahmed ( Mymensingh), Syeda Shamima Sultana (Dhaka). Mrs Mahin Khan (Manikgonj), Mustafa Kamal Akanda (IRWD-Secretariat) and others also spoke.
In her keynote, Tamanna Rahman highlighted the escalating online harassment as information technology usage grows in the country. Recent research by the NGO Aio O Shalish Kendro (ASK) revealed alarming statistics, with over 36% of girls experiencing sexual harassment from male friends online, 27% from known adults or relatives, and 18% from unknown adults. A global survey indicates that 58% of women on social media have faced some form of harassment. Tragically, one in five victims' resort to suicide, and many suffer from mental health issues. Furthermore, one in three female victims reported the abuser's ID. Notably, Facebook is the most common platform for harassment, with 39% of girls targeted there, and followed by 23% on Instagram, 14% on WhatsApp, and 9% on Twitter. These findings are based on a study by Plan International, which interviewed 14,000 adolescents, young women, and women from 22 countries. The need for caution in sharing personal information, photos, and videos, as well as the importance of legal actions, should be emphasized, starting with families.
Manju Ara Parveen said, "We should be especially careful when making friends with someone on Facebook or any other social media platform. Educational institutions can play a crucial role in creating awareness in this regard." Syeda Shamima Sultana said, "Personal information and photos should not be shared with anyone. We should also avoid going to secluded places to take pictures."
Ferdous Ara Rumee mentioned that there are help desks available for victims of online violence and cyber harassment. You can report such incidents to organizations like the Counter Terrorism and Transnational Crime's Cyber Crime Investigation Division, Cyber Police Centre, Police Cyber Support for Women (PCSWW), Hello City App, Report to RAB App, 999, and through the respective Facebook pages. Shamima Akhter suggested that government should engage with social media companies to combat online harassment. They should ensure these companies take action against fake IDs, harassing posts, audio, videos, and similar content.
Mustafa Kamal Akanda, speaking on behalf of the organizers, shared that International Rural Women's Day is celebrated in over 50 districts of the country. The day involves various activities such as rallies, seminars, community events, fairs, and recognition of rural women's contributions in different fields.
Download Related Paper [Bangla Press] [English Press] [Leaflet]
Newslink